Show Posts
This section allows you to view all posts made by this member. Note that you can only see posts made in areas you currently have access to.
Topics - Rails
32
« on: August 05, 2014, 01:52:31 pm »
It's that time once again ladies and gents! The Grand Finals of another tournament are once again upon us.
The
GRAND FINALS
of the Really Big Summer Promod Tournament 2014 will be
THIS SATURDAY, AUGUST NINTH
at
11:30 PM EST
between team NV- (#1 Seed) and Apollyon (#2 Seed) on
KissMe's Stream
(twitch.tv/kissmeplox) and
WatchL4D.com
, shoutcasted by
myself and (hopefully) Redux
and will be played on
Dark Carnival
to end the tournament. We're hoping for the hype of these Grand Finals to reach the heights of what the WatchL4D.com Spring Promod Tournament's were, and are extremely excited to bring this tournament to a close with a finale NOBODY is going to want to miss! Both of these teams have shown they are world-class competitors through their performance in RBT, and I'm ridiculously proud of all the competitors from both those teams and each of the other 32 teams which played in RBT for giving our community a great spectacle of entertainment, skill, and awesome matches over this tournament's duration. Thank you so much!
As far as the RBT All-Star game is concerned, Jacob and I have realized that a general difficulty in scheduling the match, along with a few internal situations regarding players in the game which I will not publicly disclose at this time, have pretty much rendered the game impossible to pull off. I'm hoping to find another way in which to bring an All-Star game to the viewing public that isn't necessarily centered around RBT, but we should consider the RBT All-Star game officially voided. I thank the teams for nominating players and am sorry it couldn't be pulled off as planned, but like I said, a lot of outside forces affected the game past what I originally envisioned. Such is life in the L4D2 community, as we are aware.
Additionally, the previously lobbied "Game for Third Place" which would have occurred as per the Challonge bracket most likely
will not occur
due to 1) these games historically having little interest to the teams, 2) having little interest from the viewer base, 3) conflicting with the Grand Finals and 4) being unnecessary to rank the final standings of the team due to other tiebreakers existing.
I am hoping the schedule of the grand finals doesn't conflict with Heriot's "L4Dnation Weekend Tournament" schedule, and apologize if it does, but I don't think it will be an issue. I think we're going to have a lot of great competitive L4D2 for this upcoming weekend, and thank everyone for making this possible through their continued support!
We shall post a tourney-wrap-up announcement after the conclusion of the Grand Finals to give 1) final rankings of the tournament for all 34 participants 2) closing comments by both Jacob and myself on the tournament and 3) any and all other closing comments to bring this awesome tournament to a rightful end!
Thank you all again and SEE YOU SATURDAY!
- Rails and Jacob
33
« on: July 24, 2014, 11:29:44 am »
This will be updated accordingly; these 8 players will make up the two teams for the RBT all star game.
From NV:
Hantsuki
STEAM_0:1:25099335
From Apollyon:
Heriot
(a.k.a. Jay, a.k.a. Shade) STEAM_0:0:18982562
From Team France:
Razzor
STEAM_0:0:31259555
From Long Shlong Dudes:
Asian
STEAM_0:0:26489084
From Non-Stop:
From vOv Gaming:
Rails Barlow
STEAM_0:1:42916633
From the Wolfpack:
TooL
STEAM_0:0:10867233
From team *:
Peter Griefin*
STEAM_0:1:80412
34
« on: July 24, 2014, 11:26:54 am »
Hello everyone! We apologize for the lateness in getting these results published; Jacob had to get back from TI4, every related website in the L4D world went down, and there were many issues that needed to be sorted out. In the end, an amazing six rounds of group stages finished with five teams finishing 5-1, and an astounding SEVEN teams finishing at 4-2! This means that the lovely Swiss tiebreakers known as resistance points came down as the sole tiebreaker for ranking these final eight teams. Also, two resistance points were given to teams who had opponents drop out earlier in the tournament and/or one via a specified bye win. Resistance points, for those who need a refresher, are a running tally of the wins of your opponents, updated accordingly each week, meaning even if you played a team with no wins the first week of the tournament and that team finished 3-3, 3 resistance points are tallied into your final resistance point total, as per the Swiss system used in both WatchL4D and AST 2.
With that being said, here are your top 12 finishers! (By Team Name, W-L Record, and Resistance Point Total)
1. NV 5 - 1 24
2. Apollyon 5 - 1 23
3. Team France 5 - 1 22
4. Long Shlong Dudes 5 - 1 22
5. Non Stop 5 - 1 21
6. VoV 4 - 2 23
7. Wolfpack 4 - 2 22
8. * 4 - 2 21
~~~~~~~~~~~~~~~~~~~~~~~~~~~~~~~~~
9. Sweet Dream 4 - 2 19
10. Fuzion 4 - 2 18
11. Bed Time 4 - 2 17
12. PerfectKO 4 - 2 16
The full rankings of teams 1 - 34 shall be released at a later time. The top 8, as denoted above, are included in the finals bracket ...
... which is right here!
http://challonge.com/rbtfinals
Some updates on a few situations and rule updates:
Absolutely no ringers will be permitted during the finals bracket matches, meaning you had better use 4 players who are all on your roster We're playing for money now, technically, and there is no reason why all these teams can't get 4 players from their roster to play these elimination games. Of course, you can use a different 4 players in each game you play, as long as they are from your roster. Note on this: due to troubles with their captain's computer, as presented to the admins, team Non-Stop has been allowed to update their roster as follows: Johzi, Thug Life, Vego, Mero, Xnider, Antax. This is their final roster for the tournament.
Also, due to the fact L4Dnation has been down, team * was also able to update their roster. Their final roster stands as follows:
Danne* -
http://steamcommunity.com/id/Nopelolok/
Peter Griefin* -
http://steamcommunity.com/id/dudeimcali/
TreeSixty* -
http://steamcommunity.com/id/TreeSixty/
Miro -
http://steamcommunity.com/id/Miroo/
Suavee -
http://steamcommunity.com/id/yooooooooooooo/
Que -
http://steamcommunity.com/id/NotFunnyy/
Heriot (a.k.a. Jay, a.k.a. Shade) has been dropped from team Apollyon's roster as of last week, which is why he was able to ring for teams in Week 6. Apollyon's final roster stands as follows: Grizz, Acer, MrDoodlebugs, Speshul, Sickening.
A dispute was filed between the Round 6 match between NTX and Bed Time; Bed Time were awarded a forfeit win after the evidence was reviewed by both admins, and we reached the decision mutually.
Vego from team Non-Stop will be allowed to participate in the finals, due to the fact he has sent demos to the admins, which were reviewed; no suspicious play was detected.
There will be a match to determine third place in the tournament when the time for such a game is appropriate; this match will take place during the same week as the grand finals.
So now, it's officially time for the Quarter Finals!
The Quarter-Finals for RBT will be played on Death Toll; teams will have until this upcoming Sunday, July 27th, at 11:59 PM PDT to submit their results for their Quarter-Finals matches as replies to THIS thread. We realize we posted this announcement late, however; if teams are unable to schedule in the next four days, we understand, and will handle all requests for extensions ad-hoc. We would like to see all the matches played by the deadline I just posted though, so please don't ignore it
These matchups, as dictated by the Challonge bracket I linked, are:
NV (1) vs * (
Apollyon (2) vs Wolfpack (7)
Team France (3) vs vOv (6)
LSD (4) vs Non-Stop (5)
Thank you to every team that participated in RBT! As I said, we will have the full 1-34 rankings out sometime soon.
Lastly, an update on the RBT All-Star Game! One player from each of the top 8 teams will be nominated by their team to take part in the All-Star game, which will occur the same week as the Semi-Finals. These 8 players will then be randomly divided into two teams to play for the viewing pleasure of our audience! I ask that each one of the teams nominates one player by talking to either Jacob or myself prior to next Wednesday. This will be a fun experience for all involved, and will create a very interesting matchup!
Thank you all! I expect some great games from these finals!
35
« on: July 03, 2014, 08:15:17 pm »
Hello community! I hope everyone has enjoyed everything RBT related so far; Jacob and I have tried our darndest to make sure things are running smoothly. Something interesting which I've heard floating around from various sources is the proposition of perhaps an "All-Star Game", similar to the NFL's Pro-Bowl or similar sporting all-star games which exists in professional sports. From my knowledge of comp l4d2's history, I am aware that such an attempt has been made to host an all star game before, with varying degrees of interest or success. I think, if implemented correctly, an RBT All-Star game would/could be quite entertaining.
First thing's first, do you guys think this is a good idea/something good to try? Either message me your feedback or post it here.
Secondly, if one were to be implemented/attempts made to implement, here are some criterion we'd be rolling with:
- 8 players for the all star game, who would then be split into two teams for one game.
- Voting would be done by the community (no idea how we'd pull that off, but remember, its in the idea stage)
- Only players who are signed up on official RBT rosters would be eligible for election to the game.
- Only 1 representative per RBT team would be allowed to play in the game (regardless of votes; let's say Player A and Player B are from the same team; both finish in the top 8 in voting overall, but Player A gets more votes than Player B; only Player A would be allowed to play in the all-star game.) Is this a good/bad idea?
- Teams would be constructed via either randomness OR admin discretion (Which would you like to see more? Could result in some extremely interesting combinations!)
Let me know your feedback. If this is something the community wants, myself/Jacob and others would be more than happy to facilitate it
36
« on: June 27, 2014, 12:55:35 pm »
I'm new, can someone please explain?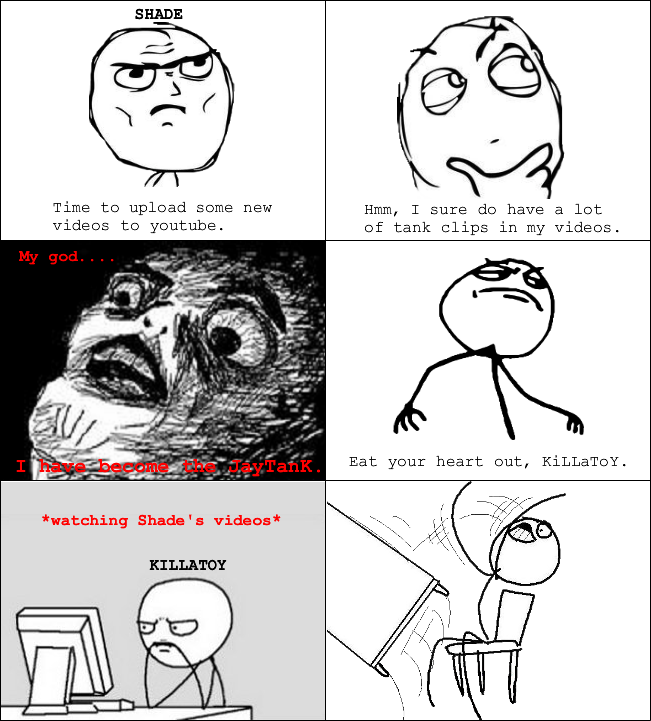 This one I really don't get:
37
« on: June 09, 2014, 09:00:21 pm »
38
« on: May 13, 2014, 08:59:35 am »
ATTENTION: TEAM SIGNUPS HAVE BEEN EXTENDED UNTIL JUNE 7th, 2014
Please only post
full
and
completed
team rosters in response to this thread for registration in the Really Big Summer Promod Tournament 2014, the announcement and adjunct details for which can be found
right here
. Any questions or concerns regarding RBT should be posted in the thread I just hyper-linked,
not
here!
Necessary components for registration:
1. Team Name.
2. Team Location + preferred server used in matches.
3. Full roster, including:
no more than six players
,
team captain denotation
,
steam community profile links
AND
SteamID identification
for
each
player on the roster.
4. For specific questions regarding player eligibility, please contact
ONLY
myself
and/or
Jacob
.
5. Please read all
rules
regarding the tournament. This is an assumption of good faith that the captains know the details of the rules as they have been posted; while they are fairly standard and have been
mostly
replicated from the Another Swiss Tournament ruleset, there have been changes made to fit the needs of the Really Big Summer Tournament, as there are in any tournament preparation.
Thank you!
ATTENTION ALL TEAM CAPTAINS:
If you are interested, a group has been created for all Competitive L4D Casters and Streamers! It is open to join; this will provide immediate and easy access for the casting and promotion of matches! The group is open to join and is available

here.
39
« on: May 12, 2014, 08:01:05 pm »
ATTENTION: Signups have been extended until June 7th, 2014
OFFICIALLY ANNOUNCING:
The

Really Big

Summer Promod Tournament 2014
(or Really Bad if you Don't Like Us!)
hosted by Rails Barlow and Jacob
Initial Prize Pool: $450
The Basics:
1. This is a
Six Round
Swiss Style
tournament, which will then proceed to a
finals bracket
of the top 8 teams to determine the champion (similar to the WatchL4D.com Spring Promod Tournament Format).
2. This tournament is
North American Based
(however, participants from any and all regions are more than welcome to participate!)
3. This tournament will use
The Latest Version of Promod
.
4.
Team Signups
will be in
THIS
thread, in order to keep organization simple. Please designate your
team captain
, and provide
profile links
and
SteamID
information for each player on your roster.
5. Teams have a limit of
six players
.
6. Team Signups close on June 7th, 2014 at 11:59 PM PDT (Pacific Daylight Time)
7. The tournament goes
live
on
Monday, June 9th, 2014.
8. A round announcement for pairings, scheduling, and result posting (via
screenshot
) will be supplied for each round, as it was in Another Swiss Tournament.
I'd like to add that teams should include their team's preferred server location in their sign up post. We will take this into consideration while pairing teams.

The

FULL TOURNAMENT RULES

are posted

HERE
The
map pool
for the tournament is as follows:
Qualification Stage:
Round 1:
Swamp Fever
Round 2:
No Mercy
Round 3:
Dead Center
Round 4:
Parish
Round 5
: Dark Carnival
Round 6:
Hard Rain
8-Team Finals Bracket:
Finals 1:
Death Toll
Finals 2:
Parish
Finals 3:
Dark Carnival
If you have any questions, comments, or concerns, please feel free to post a reply and/or contact Jacob or myself.
GOOD LUCK!
REMINDER: Please do NOT post your team rosters on this announcement thread; the registration thread is linked in number four on this post.
40
« on: April 07, 2014, 06:56:27 pm »
Hey. I'm planning on registering a team for fig's Another Swiss Tournament; we already have four members, but would like to add one or two more players to the roster who would have good availability and who have some competitive experience (and who mesh well with our playstyle, of course).
If you're interested, feel free to reply or add me here:
http://steamcommunity.com/id/RailsBarlow/
This is the team as it stands as of the initial post:
http://steamcommunity.com/groups/headachemakers
Look forward to hearing from you!